A trip to Tagebau Hambach
Immer größer und besser ⛏️🏭🔌
I always wanted to see a large gorge or mesa or something. But that's all far away. So in early October on a overcast day I went to something else instead: Tagebau Hambach: an open-pit lignite mine.
Lignite, or brown coal, is considered the lowest rank of coal.s It is crumbly and has a high moisture content.s It is continuously surface mined using giant excavators and is mainly used to produce electricity.
To be honest, it's hard to actually feel how huge it is, even when standing there. Photos do far from justice, but perhaps it can give you some idea.
You see this picture below? I'm standing at a relatively northern overview point, near Elsdorf. It is hazy and raining. My lens is almost completely zoomed in to 147mm(35mm equivalent). If you look closely you can see a pickup truck, next to the big machine depositing overburden, called a "spreader", which looks like variant of one of those huge excavation machines.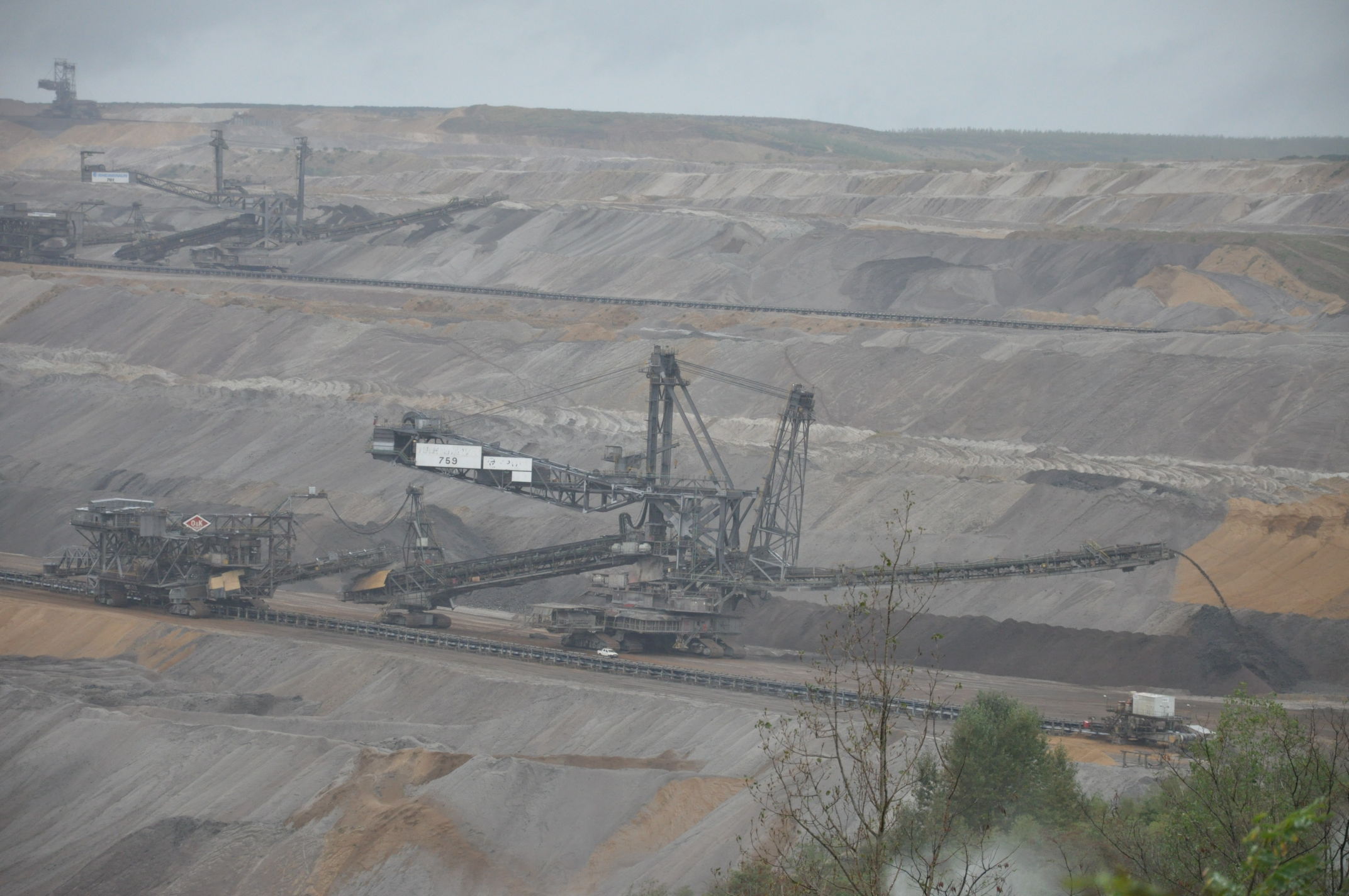 Then, I completely zoom out, to the widest view possible with my lens(27mm on a 35mm camera equivalent). The spreader on the outer right is the one you see on the photo above. And now it seems like we can only see half the mine.

Yep. It's huge. Also, if you look carefully you can see clouds coming from the Kraftwerk Weisweiler, a lignite power plant. I am not sure what these water vapor things do, my guess is something with dust. It smells strange standing there. It's not really that obvious, but the smell is odd.
I wonder how this works with ground water. It seems quite deep, I'd expect it to fill. My guess is that they pump it away, since I saw lots of pipeworks and such.
I did see some power-related activism in the area around. I saw some graffiti, which contained "RWE", but for some reason I didn't read it all. RWE is the operator of the mines and power plants in this region. I saw some graffiti displaying "Hambi bleibt", meaning "Hambi stays", probably referring to the ancient Hambach forest. The Hambach forest has largely been cleared in favor for the Hambach mine, only 10% remains as of 2018.s The forest has been occupied by activists since 2012.s, s The final thing I saw was a poster behind a window of a home in Elsdorf. It displayed a radioactive sign(☢️) with the text: "Tihange abschalten!", roughly translated to "Disconnect Tihange!", probably referring to the Tihange Nuclear Power Station in Belgium. Which I find deeply ironic: the absolute distance of the house in question and the Tihange power plant is at least 100 km, yet there are several large lignite power plants in the neighbourhood of the house.
I visited some lignite power plants before heading to the mine. I also drank some tea at a bakery in Rommerskirchen, where you can see Kraftwerk Neurath if you look through the window. Of course, I had to fill in a form who I was, when I was there, what table I sat, my phone number, etc. because of the COVID-19 pandemic. The trip was coincidentally just in time before the second wave restrictions. Had I gone a few days later, I would've been obligated to show a negative SARS-CoV-2 test.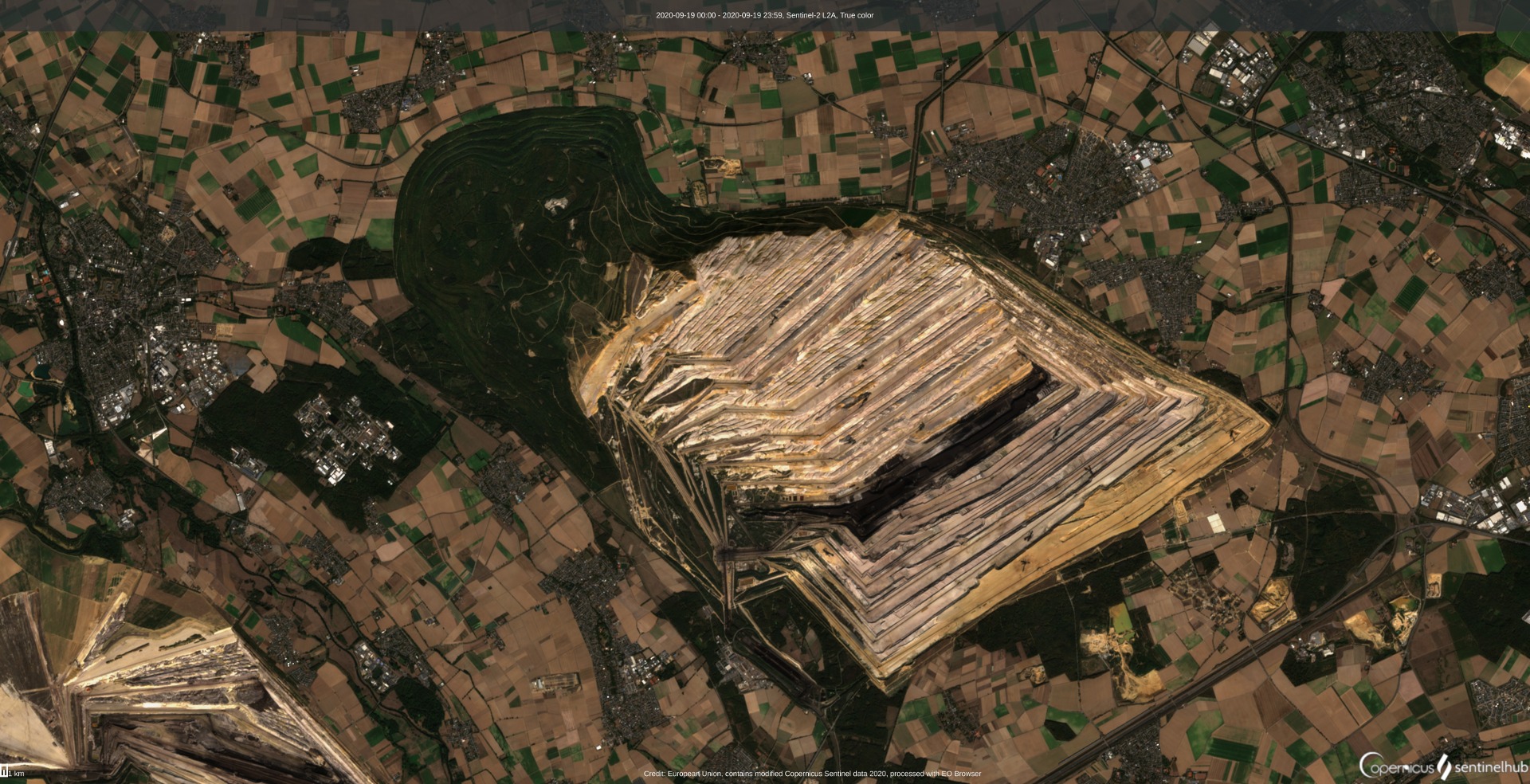 Also, what's up with these RWE advertisements in the newspaper? (Examples: 1, 2) I see them occasionally. For who are these? RWE doesn't sell energy to consumers, so I'm really pondering what motive lies behind this. I can't figure that out. "We are one of the world's leading companies on sustainable energy". Sure, they have halved their CO2 emissions, going from 164.9 Mega tonnes(MT) in 2010s to 88.1 MT in 2019,s but that's still 88.1 MT - largest single CO2 emitter in the entire EU.s Lignite accounts for 65% of their emissions, but only accounts for 31.5% of their generated electricity in 2019.s
Also, what I consider a massive meme in the Netherlands(as in, I think it's funny, it's not a widespread meme) is the Eemshavencentrale, a hard coal power plant, commissioned in 2015. It's one of the three new coal power plants, two commissioned in 2015 and one in 2016. They were entirely unnecessary.s Now the Dutch government wants to close every coal power plant by 2030. As a result of the Urgenda court case, the government wants to give subsidy for the voluntary shutdown for one of these three (relatively new) coal power plants.s Couldn't the Dutch government have foreseen this earlier?
Kohleausstieg
Lignite is one of the least CO2-efficient fuels to generate electricity: worse than bituminous(i.e. "regular") coal.s Given that if CO2 emissions are not reduced will yield colossal problems,s many countries, Germany being one of, signed the 2015 Paris agreement to reduce them. To meet the goal, coal must obviously be phased out.s
In the RWE annual report 2019, RWE explains that due to the Coal Phaseout Act, the German act requiring all coal power to be stopped by 2038,s more than half of the permitted lignite reserves will not be extracted. The Hambach and Inden mines will be out of service by 2030. By the end of 2020, RWE will decommission a 300 MW lignite-powered power plant block, followed by another 1.5 GW by the end of 2022. The act entitles RWE to a 2.6 billion EUR compensation. The report also states that it's likely the Hambach Forest will be preserved, even stating that because of the halt of the clearance of the forest they have mined less brown coal from the Hambach mine as a result.
Coal power profitability has been deteriorating for longer in the EU, especially in Germany. High CO2 price, low gas price, lots of renewable output are some of the factors.s This was especially the case during the first COVID-19 pandemic lockdown, with less demand for many things, including electricity, as reflected in prices.s Figures speak for themselves: > 20% drop in coal and lignite usage in Germany in 2019 compared to 2018,s and 34% coal reduction in the EU in Q2 2020 compared to Q2 2019.s
Despite this, RWE still plans to expand some mines, most notably Tagebau Garzweiler. 2038 is after all, still nearly two decades. Which once again means more villages have to be cleared. Which makes villagers angry.s
Could perhaps these plants shutdown even earlier? This article by carbon brief makes me think that might be. Coal(and lignite) is largely baseload, and with intermittent renewables capacity going up, being able to turn it on and off seems more useful as firing coal at low electricity prices is not profitable. As I understand it, coal power plants have high fixed costs and low variable costs.
Then again, nuclear - also generally a baseload power - is being phased out as well after the 2011 Fukushima disaster, but much earlier than coal,s so that's a competitor away. Furthermore, wind power capacity growth in Germany has stagnated significantly the past few years,s mainly due to regulatory problems.s Also, RWE has hedged a lot of CO2 emission rights(and implicitly fuel) until a staggering 2030, so impact on the high CO2 price seems limited.s, page 37/38 So that's the other side of the coin.
Somewhat ironically, despite the Kohleausstieg a new coal power station, called Datteln 4, also located in North Rhine-Westphalia, was opened in May 2020.s This power plant uses black coal, not lignite. I consider it the Brandenburg airport among the coal power plants, because construction started in 2007 and was only finished recently.s
To be honest, it was a relaxing trip. I also made photographs of other electricity-related things. But the next day, I felt slightly down, given I had seen such destruction by humanity, and thought about all that particulate matter and such with negative health effects on society. I am glad to know that, at least there seems to be some sort of end to all of this. Of course, it gives lots of jobs for lots of people, they work hard to deliver electricity, which is admirable. After all, why are we taking all this stuff out of the ground and burn it?
But humanity should strive for better ways. External costs of lignite is in the billion EUR range for one power plant alone,s, see also datasheet a German study from DIW estimates externalities at 60-120 EUR/MWh.s, page 15 I get that the mines employ a lot of people and that a region has grown towards it, but that's not a good reason to keep something with many negative effects.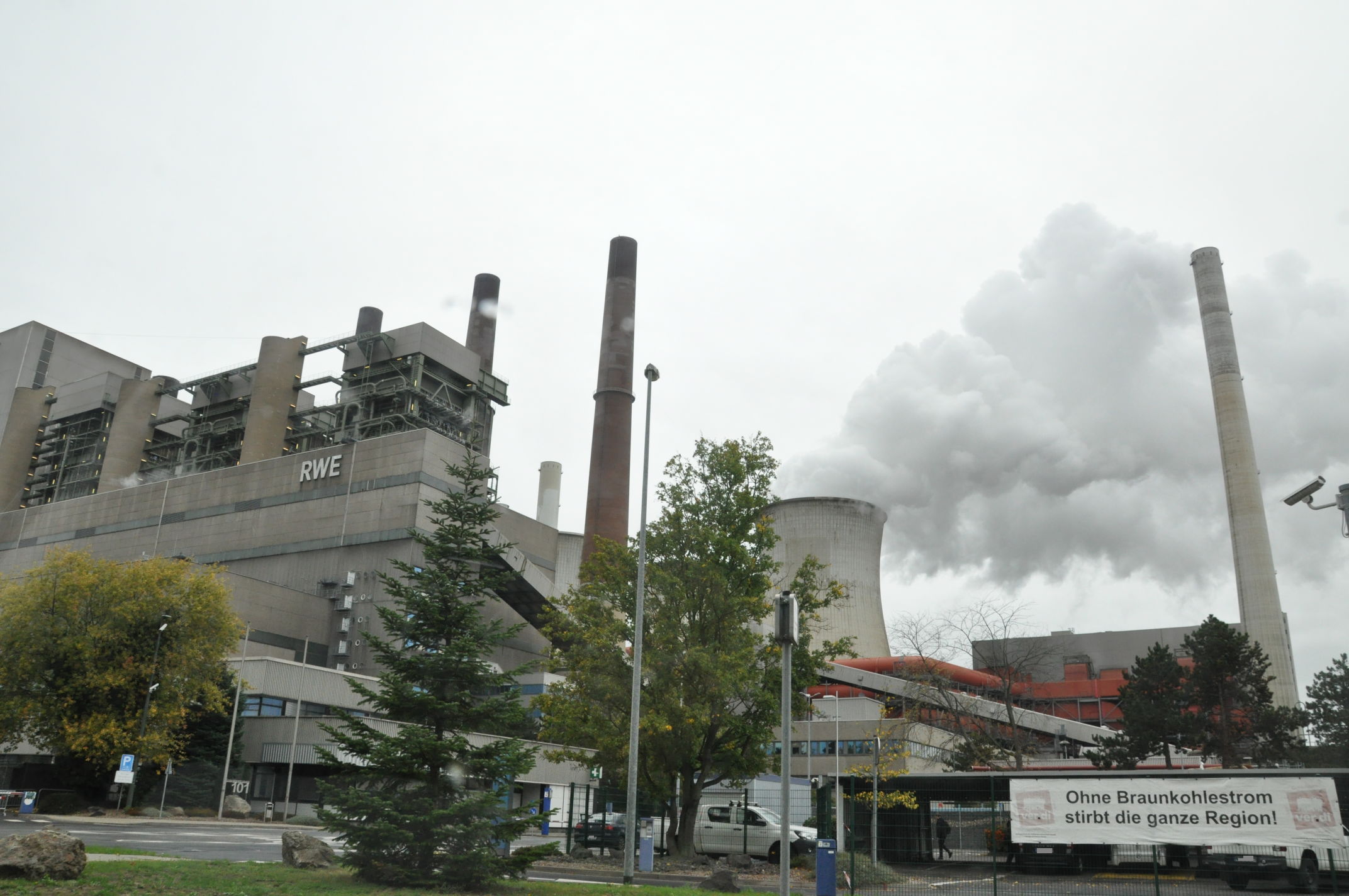 I think the "without lignite power the entire region will die" seems kind of a stretch. The Rhineland lignite region employed 8873 people in 2017, or ~0.27% of the labor force, or one in ~367 employees.s In Germany in its entirety, 18531 people work in lignite, compared to ~160k people in wind power(2016, including exports)s Worth noting is that these people are not suddenly jobless overnight. However, I will also note that this could be a little misleading, because if there's concentration of labor force in certain towns, obviously the effects on these towns will be observed. But it remains true for the entire region. Kind of like that an average human has roughly one testicle and one boob. Also, I understand their emotion, and I think I might have made a gross oversimplification, but I think this provides some nuance.
One could even go further and bring in another argument. Burning coal causes air pollution, which causes premature deaths and disease burden.s, s That results in jobs, or at least working days, lost, I would assume.
Ok, so coal will be phased out in Germany by 2038. But is it enough for the 1.5°C pathway? No, writes a report from the UNFCCC. In order to meet the 1.5°C goal, the kohleausstieg must be completed by 2030.
Phasing out early coal also has other upsides, such as reduced healthcare cost because of reduced air pollution, and avoiding relocating towns.s
Keep in mind I am far from an expert on this subject, so take this with a heap of salt.
Also, while making this article I found out RWE has its very own domain extension: .rwe. However, I noted that there's currently only one domain using it,s I guess that's group.rwe. Doesn't rwe.group make more sense? RWE also has a site where you can see their production data, but it ends with .com. Additionally, in the advertisements they use rwe.com. Strange stuff.
Before I went home, I had some pizza at a strange restaurant near the NL border, it was one of the few open. We were the only guests there. There was joyful German music playing. There was a dog in the restaurant. The pizza I had was greasy. The table mats were strange, the entire restaurant had transparent table mats where you could slide in four photos. But inside those slots, there were just generic stock photos with the dimensions printed on it, as you would see them in a store. I thought it was strange, but then again, who goes to a restaurant around 16:00?
These videos shows the expansion of some lignite surface mines. Made with the EO browser, uses data from Landsat 5 and Sentinel-2 L1C.
Tagebau Hambach
A large portion of the Hambach forest is gone. Also visible is that at one side lignite is mined, and at the other side material which is not lignite is deposited. You can also see the construction of the Sophienhöhe, an artificial mountain. bonus timelapse
Tagebau Garzweiler
You can see villages that some villages had to be destroyed. If you look closely, you can also see the plumes of Kraftwerk Frimmersdorf before it was moth-balled.
Link to a tweet showing the expansion of Tagebau Hambach, another one
This article is kind of all over the place, with opinion, statements without opinion, and just telling about my day travelling, but I hope you have enjoyed it regardless.